What They're Not Telling You About Trump's Fake Time Magazine Cover
The media is having a field day today, bemused by the revelation that Trump has a fake Time Magazine cover of himself in 5 of his clubs. Mika, from The Morning Joe, had a grande time this morning, mocking and ridiculing the 'needy' President for this shocking revelation, saying 'this is your boss.'
She prefaced his diatribe by saying 'Trump was so needy that he had not been on Time yet that he made is own', calling the Time cover 'phony', 'fake' and 'pathetic.'
 

Fake Time Magazine cover of Trump
Watch.

(There was a video here. My browser is telling me NBC blocked it to "my country" on copyright grounds. Hiding it?)
The only problem with Mika's reporting is that it's false. Shocker, eh?
Here's Trump on Time Magazine, 1989.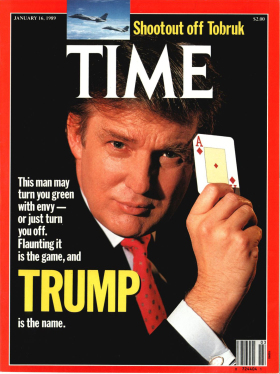 Why does Trump have a fake Time Cover in his clubs, when in fact there was a real one in existence? God only knows. It was probably done in jest, garnered a few laughs, and tossed up on his club walls to keep the meme going. The fact that this is news today, just after CNN got busted for admitting to publishing fake news, is probably not a coincidence.
Here are some other Time Trump covers.